The Lure of the Beer Stein*
by Jack G. Lowenstein
Beer steins are artistic, beer steins are decorative, beer steins are fun to collect, and beer steins are useful because beer tastes great when served in a cold stein!

Schleswig- Holstein Dragoner regimental stein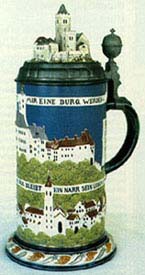 Mettlach No. 2828, Wartburg Castle Stein

These are some of the reasons that beer steins, mainly the German variety, are being so widely collected today. While steins have been in collections for as long as they've been around (from ca. the 13th century), it would appear that the second half of the 20th century is really the time of greatest collecting activity. This is most likely due to the appearance of Stein Collectors International, an organization of serious beer stein collectors, founded in 1965 and going strong today with over 1,600 members and 21 chapters worldwide.

And what do these SCI members (and others) collect?

There is no doubt that the stoneware beer steins manufactured by the firm of Villeroy & Boch in Mettlach (Saar Valley), Germany are the finest and most beautifully made steins of the 19th and 20th centuries. Made by internally developed, unique techniques, these etched, relief and print-under-glass steins were museum pieces in their own time and top prize winners at turn-of-the-century exhibitions. It's no wonder then that they are sought-after prizes today, the key pieces of many collections. Mettlach steins, as they are commonly called, come in sizes from ¼-liter to giant 4-liter ones, are all exquisitely decorated, are ornately designed with both ceramic and pewter lids — and are expensive! In today's antiques market, Mettlach steins range from just a few hundred dollars to many thousands, depending on type, decor, size and relative rarity.

Next in "collectibility" are the so-called Regimental Steins, souvenirs of German soldiers' reserve time in the 1870 to 1914 time period. These mostly porcelain steins are decorated with reminiscences of the two or three year reserve duty time every German male had to serve. A typical regimental stein will feature duty scenes, will display regimental identification, and will almost always carry a complete roster of the reservist's comrades. Both the thumblift (which was used to raise the lid) and the finial on top of the lid were also indicative of the reserve Army or Navy unit. In addition, the porcelain steins often have a translucent picture, called a "lithophane," in the bottom of the stein, made visible when the empty stein is held up against a light. Most of these steins were made in Bavaria and were sold to reservists when their tour of duty was completed. Thereafter, they became valued family heirlooms.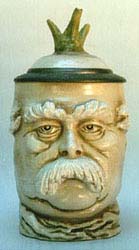 "Bismarck Radish" character stein by Schierholz

Today, authentic regimental steins (many are being reproduced) cost in the hundreds to thousands of dollars range, depending on the rarity of the units represented, as well as condition and attractiveness. For instance, steins from medical, airshippers and railroad units are considered more valuable than those from infantry, cavalry or machine gun units.

Typical Westerwald souvenir stein by KING-Werk

A third category of very desirable beer steins, in the same price range as the ones described above, are the Character Steins. These are droll steins in the shape of human figures, animals, vegetables, towers, buildings and whatever the artist dreamed up. Usually the head or roof of the figure is the lid, so as not to disturb the overall representation. The steins are, of course, equipped with a handle and the lids have the ever-present pewter thumblift. Most character steins are made of porcelain, but there are also stoneware ones and even some made of pewter. Many of the porcelain steins have lithophanes in their bases.

Instantly identified and associated with Germany are the blue-grey saltglazed stoneware steins made in the Westerwald (Western Forest) region of Germany, in the Rhine River Valley, southeast of Cologne. This region is a potter's centrum, famous for its quality stoneware for over 500 years. The steins made here are the heavy-duty ½ and 1-liter vessels used in Munich beer gardens and beer taverns all over Germany, as well as the colorful relief-decorated steins which have become Germany's most popular souvenirs. Westerwald steins exemplify the potter's art and are still available at reasonably low prices, from just a few dollars to several hundred.

Equally affordable are earthenware, glass and all-pewter steins, all beautifully decorated, gracefully formed and fine examples of this type of drinking vessel. Steins have also been made of wood, ivory and even coconut shells. Of course, fine gold, silver and pewter tankards have been made for centuries. Since drinking vessels are so indispensable and their general form is so "decoratable," the artisans have let their imagination fly in their quest for artistic expression.

There are so many different types of steins, by so many manufacturers, in so many price ranges, that every collector, from novice to expert, can find choice examples to expand their collection. This enormous selection has helped popularize the hobby — both men and women delight in collecting and studying these wonderful vessels.

Beer stein collecting is fun — we'll drink to that. And as we say in SCI, "Prosit" — To Your Health!


__________

*Reprinted by permission from All About Beer Magazine, Vol. 11, No. 5, October/November 1990.

Editor's note: Color photographs have been substituted for the black and white pictures that originally appeared as illustrations in this article. The replacements depict different steins than the originals.

New material ©1999 Beer Stein Library — All rights reserved.