Mettlach Inlay Variations*
by Steven A. Steigerwald
Sometimes the variation between two Mettlach steins occurs in the inlay of the lid. Mettlach produced several steins which were manufactured with different inlays. Some of these occurred as special orders for a particular business, while others apparently occurred randomly, with different inlays being used for the same stein. Additional inlay variations appear to have occurred as a result of the evolution of the design process.
The most frequently found and sought after stein with a special order lid variation is the 0.3-liter version of the Lovers stein, form number 1968. That form number, as designed, came with an inlay depicting an anchor surrounded by a vine with leaves. Mettlach produced an inlay variation for this stein for Anheuser-Busch, replacing the usual inlay with one depicting the corporate symbol, which is the raised wing eagle intertwined in an A.
Form 2833 with normal inlay (left)
and The Angelus inlay (right).

Form 1863 with Deutsche Fachausstellung
inlay (left) and normal inlay (right).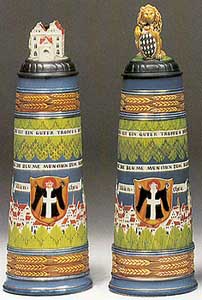 Form 2869 with Hofbräuhaus inlay and with lion inlay.

There were a number of other steins with special order inlay variations produced by Mettlach. The Angelus in Los Angeles, California, had special order porcelain inlays for the brick base series, form numbers 2833A through F. These inlays replaced the different stoneware inlays in the series. A special order for the Deutsche Fachausstellung für dos Hotel & Wirthschafts wesen (German exhibition for the hotel and domestics professions) in Stuttgart, Germany, which apparently took place August 14-31, 1897, was made for form number 1863, replacing the standard inlay depicting the Stuttgart shield.

Another inlay variation which may have been a special order by a business occurs on form number 2869, the 2.9-liter full-color relief Munich stein. This stein usually came with a figural lion holding the Bavarian shield as its inlay. A variation of the inlay is a full-color, three-dimensional depiction of the Hofbräuhaus.

Three interchangeable inlays were used on the series comprised of scenes from the Trumpeter from Säckingen, form numbers 2007, 2008 and 2009. The lids depict der Freiherr (the Baron), Jung (Young) Werner and Margareta. Each of these lids can be found on any of the three form numbers.

Other steins that had interchangeable inlays include form numbers 2277, 1475 through 1480, 675 and 1060. Each of these form numbers had figural inlays which were available. The 0.5-liter size of form number 2277 came only in the Nuremberg scene. This stein usually came with a flat etched inlay depicting the Nuremberg shield. However, a figural lion holding the Bavarian shield was also available as an inlay. Each stein in the gnome winemaker series, form numbers 1475 through 1480, usually came with the same etched inlay depicting a bunch of grapes. However, a figural gnome inlay was also available for this series of steins. Form number 675, the common Mettlach barrel, came with a variety of inlaid lids. The most common inlay has relief hops leaves with a figural hops bud. This stein was also available with several other inlays. A flat inlay resembling the end of a barrel and inlays with a radish in either red or platinum also were available. A figural drunken cavalier inlay in either brown (stoneware) or white (porcelian) was also available on the stein, as was a brown figural sitting fox looking down at a bottle. The figural fox inlay also occurs as a variation on another Mettlach barrel stein, form number 1060. The Mettlach Book lists an additional variation for the inlay on form number 675, a figural drinking dwarf.

Three inlays for form numbers 2007, 2008 and 2009
The evolution of the design of a stein also created inlay variations. The figural castle inlays on form numbers 2828 and 2829 were larger on the early versions of these steins. Form number 1570, a mosaic signed by Hein, is usually seen with an inlay which continues the mosaic design of the stein. The apparently earlier variation of the inlay for this stein has a different continuation of the design with a figural hops bud at the center.
Form 2277 with Lion inlay
and form 1476 with Gnome inlay.

Form 675 with Fox inlay
and with Hops Bud inlay.
The older version of form number 202 and the newer version of form number 24 also have inlay variations. The old version of form number 202 came with a reclining figural gnome as a variation. The new version of form number 24 usually came with an acorn figural finial but sometimes had a dog head finial.
This list is by no means exhaustive, especially with respect to special order variations. It also does not include inlay variations which occurred when the stein body or scene was redesigned while the stein retained the same form number. We invite you to forward information about, and photographs of, variations of inlays for future articles.
__________
*Reprinted from The Beer Stein Journal, May 1995, by permission from Gary Kirsner Auctions.