Steins by Rookwood Pottery
of Cincinnati, Ohio
by Walt Vogdes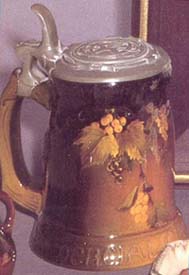 Figure 1

Today, when stein collectors tell you they have a "Rookwood" stein, you can be almost certain they mean they have a stein manufactured by Mettlach in the Rookwood style. This article deals with "real" Rookwood steins — those made by the Rookwood Pottery of Cincinnati, Ohio, whose brown "standard" glaze was imitated by Mettlach in a series of portrait pieces which are commonly referred to as "Rookwood" (form numbers 2782 through 2793). While popular with stein collectors, that line is totally ignored by collectors of art pottery.
History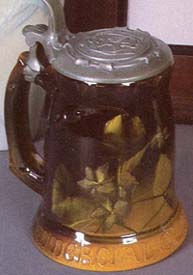 Figure 2

Founded in 1880 by Maria Longworth Nichols, Rookwood Pottery Co. received numerous international awards for its American art pottery, and is widely recognized as producing the most artistic examples of this genre. From their beginning, Rookwood emphasized surface decoration, using bodies which were largely mass-produced. While each piece was individually decorated by hand and artist-signed on the bottom, and there are some pieces which are truly one-of-a-kind, the majority of the work was decorated using sketchbook drawings, photographs or other guidelines for the designs.

Rookwood decorated wares — as distinguished from their later undecorated "production" wares — are generally categorized by the color of the clay used in the body, the type of glaze, the nature of the decoration, the artist who decorated the piece and, to a much lesser degree, the form which was used. In terms of valuation, there are a few artists whose work is so artistically creative and of such a high quality that their pieces command a steep premium. Most prominent among them was Kataro Shirayamadani, a Japanese artist who began his work for Rookwood in 1887 and was still working as a decorator in 1948, shortly before his death at age 83.
Standard Glaze
In 1883 Rookwood introduced decorative ware using underglaze slip painting applied to a white or yellow body with a glossy, yellow-tinted glaze. The clay grounds were prepared in earth tones of brown, green and yellow, with one color frequently fading into another on a given piece. These grounds, suggestive of soil, light and vegetation, were especially well suited for botanical motifs of flowers, fruits, leaves or vines. A second popular motif for standard glaze items was portrait decoration, including Native Americans, African Americans and portraits after the Old Masters. Initially referred to as "rich glazed ware", these items were of such renown that by the time of the 1901 Pan-American Exposition in Buffalo, New York, this glaze line was synonymous with Rookwood, and the term "standard" glaze evolved from common usage.
| | | |
| --- | --- | --- |
| Figure 3 | Figure 4 | Figure 5 |
Marks
In 1886 Rookwood adopted a trademark consisting of a capital "P" standing back to back with a reversed "R". This mark was impressed in the base of each item, along with the form number, the decorator's signature, and other indications of the body composition and the glaze to be used. It was soon decided to incorporate a dating system into this trademark, adding a radial "flame" around the logo for each successive year. This was continued until 1900 (fourteen flames in addition to the basic logo), after which a Roman numeral was added to designate the year of manufacture.
Left: Logo adopted in 1886.
Right: One flame added to the logo each year until 1900 (14 flames).

Signatures on Illustrated Steins:
1) Daniel Cook; 2) Mary Nourse; 3) Bruce Horsfall; 4) Kataro Sherayamada; 5) Matt Daly; 6) Grace Young; 7) William McDonald
Beer Steins
Figure 7The remainder of this article is aimed at stein collectors, and is limited to illustrating some of the very few beer steins manufactured by Rookwood. With each illustration I will try to place the item in context of Rookwood's styles and glazes, keeping in mind that the range and diversity of their production, especially when viewed over a history extending from 1880 to 1948, is extraordinary.
Using the definition that steins must have lids, I point out that Rookwood manufactured many loving cups and mugs without lids which have great appeal to collectors, but all such pieces are by definition eliminated from the scope of this article.
The metalworking operation at Rookwood was begun as an experiment in 1894. Difficulties in working with hard metal fittings led to a decision in 1895 to import castings from Japan to be used for lamp caps and bases, and to focus in-house on soft metals. In 1896 the metal shop was limited to producing pewter lids and mounts for steins, and fitting lamps and vases with bronze mounts imported from Japan. Just a year later the metalworking department was judged not commercially viable, and was closed. Fabrication of metal lids for steins never amounted to more than a sidelight, and it is noteworthy that all of the steins which are illustrated in this article date between 1894 and 1896.
With the exception of a number of steins made for the Weidemann Brewing Co. (which demonstrate little of the early artistry of Rookwood), I have illustrated all of the steins (9) which were offered in four major auctions of almost 3,400 Rookwood items in 1991-1993, 1997 (one stein was sold and resold), and one stein which was sold at a stein auction in 1996. As you will see, these pieces are typically quite expensive.
| | | | | |
| --- | --- | --- | --- | --- |
| Figure 6 | Figure 7 | Figure 8 | Figure 9 | Figure 10 |
Illustrations of Rookwood Beer Steins
Figure 1: Standard glaze; Floral motif, decorated with grape leaves, vines and fruit by Daniel Cook, dated 1895; sold in 1993 for $850.
Figure 2: Standard glaze; Floral motif, decorated with violets by Mary Nourse, dated 1895; sold in 1991 for $2,200.
Both of the above presentation pieces were made for the Commercial Club of Cincinnati, whose name is in relief at the bottom rim, and whose "CCC" logo is in relief on the pewter lid. The inside of the lid is inscribed with the name of the recipient.
Figure 3: Standard glaze; Portrait featuring a Native American by Bruce Horsfall, silver lid, dated 1895; sold in 1991 for $3,300.
Figure 4: Standard glaze; Portrait of a young African-American by Bruce Horsfall is dated 1895, pewter lid showing a blackberry decoration in low relief; sold in 1997 for $5,500.
Figure 5: Standard glaze; Portrait of a Pilgrim by Matt Daly, dated 1896, ceramic inlaid lid with pewter mounts, bird thumblift; sold in 1997 for $2,400.
Figure 6: Standard glaze; Portrait of a conquistador by Grace Young, dated 1895, ceramic inlaid lid with pewter mounts, sold in 1991 for $525 (handle repaired) and resold in 1993 for $500.
Figure 7: Standard glaze; Portrait of a clown by William McDonald, dated 1894, pewter lid with hops decoration and gargoyle thumblift, sold in 1991 for $7,250.
Figure 8: Iris glaze; Portrait of George Washington (bright spots are lighting glare) by William McDonald, dated 1896, ceramic inlaid lid with pewter mounts; sold in 1991 for $3,250.
Figure 9: Iris glaze in a special design by Edwin Atlee Barber, decorated by William McDonald, dated 1896, pewter lid with chrysanthemums, marked 1˝L; sold in 1991 for $31,000.
Figure 10: Iris glaze decorated with six skeletons picking grapes, pewter mounts with inlaid lid, dated 1896 and attributed to Shirayamadani. This stein, part of the estate of Bill Schwartz, sold in 1996 for $14,500.
References
The Book of Rookwood Pottery, Herbert Peck, Crown Publishers, Inc., New York, 1968
Rookwood Pottery: The Glorious Gamble, Anita J. Ellis, Cincinnati Art Museum, Rizzoli, New York, 1992
The Glover Collection, auction catalog, Cincinnati Art Galleries, 1991
Rookwood II, auction catalog, Cincinnati Art Galleries, Cincinnati, OH, 1992
Rookwood III, auction catalog, Cincinnati Art Galleries, Cincinnati, OH, 1993
Rookwood Auction, auction catalog, Treadway Gallery, Cincinnati, OH, 1997
__________
© 1998 Beer Stein Library — All rights reserved.