Introducing Heinrich Schlitt*
by Arthur J. Maethner

Mettlach 2764
"Knight"

Heinrich Schlitt!!! To the uninitiated, the crowded consonants may sound unusually harsh, even when slightly anglicized. Yet these two words can not help but evoke a murmur in the hearts of all but the most blasé collectors of Mettlach steins, one that threatens to become a shout of ecstasy.

Who among you does not place a particular value on a PUG or an "etched" chromolith stein or plaque in your collection to which these two words, or a portion thereof, have been affixed? The mere mention of his name is bound to bring to your mind's eye a myriad of images: the bold audacity of the thirsty knight; the wizened visages of avaricious gnomes, mellowed by just a tinge of wry good humor; the anthropomorphic treatment of beer-mugs and pretzels, sausages and steins, devils and playing cards, towers and trees.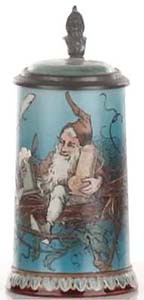 Mettlach 2134
"Gnome Drinking"

Yet, how many of you really know anything about Heinrich Schlitt, the Man? Who was he really? When was he born? Was he a native son of Munich, the city with which his name is almost always associated? Is his work to be found on steins and plaques alone? These are some of the questions which this article will answer for you.

Heinrich Schlitt was born in Biebrich-Mosbach in Nassau (formerly a duchy, but now a part of the German state of Hesse) on August 21, 1849, the son of a ducal civil servant. A propensity to the arts made itself felt early in his life. Although he was a pupil of Wilhelm Lindenschmit, the first person to guide his footsteps down this artistic path was the highly talented Wiesbaden artist, Kaspar Kögler. Schlitt also had Kögler to thank for helping him in a practical way to come into his own element so early. He was one of the favored few who were able to secure and maintain a comfortable livelihood in the arts early in their careers.

To be sure, Schlitt's exquisite sense of humor, which was the first of his talents to be converted into hard cash in the art trade, proved to be the most valuable in this regard. Schlitt was frequently occupied as an illustrator and as an artist using the media of wood and stone. His illustrations in the periodicals of the day (Die Gartenlaube, Das Buch für Alle) numbered in the hundreds. In fact, most of his work came to be known to the general public through these illustrated magazines.

In the early 1870s, Schlitt's path led him to Munich, capital of Bavaria, one of the largest kingdoms in the German Empire. Under the tutelage of Professors Barth and Undenschmit he began his study of oil and watercolor painting. Almost all of his paintings from these decades leading to the turn of the century reflect Schlitt's belief that his work as an artist should be concerned with a portrayal of the more humorous aspects of life. By the age of forty he had at least forty major easel paintings in both oil and watercolor to his credit. Unfortunately for the general public, all of these works of art were privately owned, even at that time, by collectors, most of them in England and in the United States. Only a very few actually remained in Germany.

Mettlach 2262/1014
"Pilgramage of Steins
to the Munich Child"

Schlitt's role as one of the principal artists for the ceramics firm of Villeroy and Boch in Mettlach is well-known to all steinologists. The Schlitt drawings (dated 1905) which adorn the walls and vaulted ceiling arches of the Ratskeller in the town hall of Munich are recognized by his admirers of his extant works. Less well-known, but in many ways superior in execution to this work in Munich is his collection of thirty original drawings and four murals which form a most definitive pictoral history of what could be termed Bierkultur or, more informally, "beerology." These works were specifically designed to be used in the decoration of the walls of the Bierhalle in the Ratskeller of the town hall in Wiesbaden in the spring and summer of 1890, when Schlitt, at age 41, returned to his native province from Munich to work again with his mentor and old friend, Kaspar Kögler.

Heinrich Schlitt was in a sense a sorcerer, a kindly wizard who could well have been worthy to be the court painter of the most honorable Jan Primus of Brabant, reputed to be the first brewer of beer in Europe and honored today by many as King Gambrinus, the holy saint of beer.

Schlitt, a true son of Nassau, was ideally suited to fulfill his artistic duties. The rather dry Nassauian wit, which Schlitt possessed by right of birth, when "married" to the hilarious caprice of the Münchner Kindl, slowly assimilated by Schlitt through years of residence in the beer capital of the world, could not help but create a number of unique "children," products of a fertile mind which appeared over the years in a variety of forms and guises, all of which would prove to be more than worthy of both "parents."

[Heinrich Schlitt died on November 13, 1923 and was buried, alongside other honored Munich artists, in Munich's Waldenfriedhof cemetary, but surely he] will live on for as long as any collector of beer steins keeps [him] in memory.


__________

*Reprinted by permission from Prosit, the Journal of Stein Collectors International, Issue No. 64, June 1981.

Editors Note: One of the two black and white pictures originally appearing with this article has been replaced by the three color photographs depicting Mettlach beer steins designed and signed by Heinrich Schlitt. The bracketed material in the last paragraph replaces outdated information in the original text.