Christian Warth: An Unknown Artist?*
by Uwe Oswald
Translated by Kurt Sommerich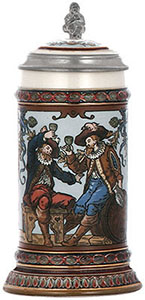 Mettlach 1932

At first sight this is an absurd and provocative question for collectors of Mettlach stoneware. But what do we really know about Christian Warth? Who was Christian Warth, the man?

We know that Warth worked on copper engravings and stoneware models for Villeroy & Boch, Mettlach, from 1854 to 1892. During this period, while he was incidentally not a resident of Mettlach, he created many well-known steins, including:
Nos. 1161 (7-liters, the most expensive stein ever produced at Mettlach); 1163; 1396; 1403; 1494; 1527; 1536; 1632; 1641; 1644; 1645; 1690; 1723; 1734; 1742; 1759; 1795; 1796; 1819; 1915; 1932; 1940; and others.
In addition to this considerable output of steins, one finds Warth's signature on quite a number of plates and plaques. His typical signature ("C. Warth") is well known to stoneware collectors, and Warth's style is unmistakable. Always clear in his design and with astonishing strength in statement in his scenes, Warth breathes life into his characters, forms and landscapes.
I shall now try to describe one specific creation by this artist, namely beer stein No. 1932. This piece is one of my most beautiful beer steins and is what made me wish to study Christian Warth.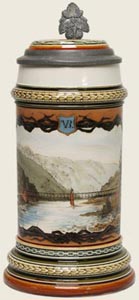 Mettlach 1723

It is cylindrical, etched, and with rich and colorful decor. Two merry drinkers in multicolored garments and plumed hats attract the eyes of the viewer. One man is already drunk and boisterous, the other is soberly appraising the situation. He is holding the wine-jug in his left hand, slightly hidden behind his back, awaiting just the right moment to treat his companion to the next round. It is perhaps for this reason that he picked the spot on top of the wine barrel, in order to be able to distribute the liquid nourishment with greater ease. His friend, who is sitting on the bench, seems to be an open and cheerful man. One hopes he is strong enough to emerge victorious from this drinking spree.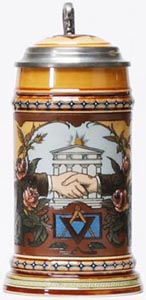 Mettlach 1819

On either side of the friends one finds wall-hangings with the saying, "Ein Glas beim Freund ist gut gemeint!" (A glass with a friend is well meant!) To be sure, tobacco pipe and pouch, radish and fish cannot be absent, and these are also arranged on the wall-hangings. Wine goblets hanging on colorful ribbons and a beer stein complete the happy drinking scene on this stein.

Getting back again to Christian Warth, the person, he came from Birkenfeld and worked for V&B at Mettlach from 1854 to 1892. If one considers that Christian Warth was not a resident of Mettlach and thus could not have served his apprenticeship as a 14 or 15 year old at the pottery (in which case he would be registered with his parents in the official records of the City of Mettlach), I would presume that Warth was already an artist of renown when he initiated contact with V&B. I am assuming that he reached his artistic maturity at the age of 30 to 35 years. Thus, Christian Warth was probably born about 1820 and created his stoneware designs until he was well along in years.

It is certain that Warth neither lived nor died in Mettlach. This is unequivocally proven by the Bureau of Vital Statistics in Mettlach. Research in various localities, such as Birkenfeld, has not yet brought forth any positive results.

So many questions about Christian Warth arise. Where and when was he born? Where did Christian Warth live? Was he married and does he have descendants? Where did he die and where is he buried?

The V&B archives do not furnish the answers. The fire of 1921 thoroughly destroyed all possible documentation. Thus Christian Warth, the artist, is an open book for the collector, but Christian Warth, the person, remains a mystery to this day.


__________

*This article was originally published, in German, in Mettlacher Turm, No. 11, September 1981. English version reprinted by permission from Prosit, the Journal of Stein Collectors International, Issue No. 68, June 1982.

Editors Note: The three black and white photographs originally appearing with this article have been replaced with color photographs depicting the same three Mettlach beer steins, each designed and signed by Christian Warth.