The Unheralded KING
by Frank Loevi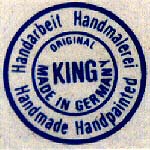 Figure 1

Nestled unobtrusively at Seiferwiese 3-7 in Höhr-Grenzhausen, a town whose name is synonymous with steinmaking, is the factory of the second largest manufacturer of beer steins in Germany. The company employs some 50 workers and annually produces more than 250,000 steins. It is a regular supplier to the German Foreign Minister and to the President of Germany, and successfully competes in Europe with its larger rival, S.P. Gerz. In spite of all that, however, the company remains largely unknown among American stein collectors.

So what's the name of this mystery manufacturer? The answer, as you've probably gleaned from the title of this article, is "KING" or "KING-WERK." If the name doesn't mean much to you, you're not alone. Even The Beer Stein Book, a popular collector's reference, in its "Post World War II" section, provides only two pictures of KING steins. Gerz, on the other hand, rates over fifty, as does A.J. Thewalt, GmbH, another (smaller) Höhr-Grenzhausen manufacturer.
KING in America
Founded in 1949 as "Würfel & Müller," there is little evidence that the company made any serious effort to sell steins aimed at U.S. consumers until 1959. It was at that time that the contract was signed to produce the first 5000 sets of "Schultz & Dooley" steins for the West End Brewing Co. (WEBCO) in Utica, New York.

Figure 2

It appears to have been shortly thereafter that Würfel & Müller decided to change their name to KING. While the legal name of the company is now "KING-WERK Würfel & Müller," the markings on steins made since the 1960's refer only to KING. A current KING logo is shown in figure 1. KING, by the way, is an acronym for "Keramic Internationaler Geltung" which loosely translates in English to "steins of international reputation."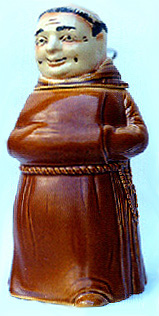 Figure 3

If the Schultz & Dooley deal was seen by the company as a significant entry point to a new market place, that illusion was soon overtaken by reality. After producing only 10,000 more sets for WEBCO, the contract was lost to Brazilian manufacturer Ceramarte, and further efforts to develop steins specifically for the American market were apparently put on the back burner.

In Germany, on the other hand, the company was clearly on the right track, continuing to grow while many of its counterparts faded into history. Around 1970, KING got some direct benefit from the disappearance of one of its rivals, in that it was able to acquire a substantial store of stein molds from the failed firm of Eckhardt and Engler. A number of those molds, some dating back almost 100 years, are still in use today. Representative of the Eckhardt and Engler designs currently manufactured is the 2-liter fire brigade stein pictured in figure 2. This medium-relief stein, hand-painted with typical KING attention to detail and quality, sells well enough in Germany to keep it in continuous production.

While there are many more recent designs in the KING catalog, almost everything they produce today is still based on traditional concepts. For example, the company sent me the Monk stein shown in figure 3 as representative of their line of character steins. Items like this were, of course, standard issue among 19th century manufacturers.

My personal favorites from the KING product line are their wildlife steins, built in what is coming to be called the "grotto" style with an animal figurine mounted inside an indentation in the stein body. Figure 4 shows a typical example. According to Gail Cornell, of M. Cornell Importers in Minneapolis, the largest distributor of KING steins in the United States, these steins are among their best sellers.
Sticking With Tradition?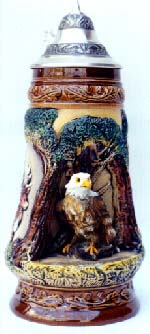 Figure 4

The traditional designs that have made KING popular with both Germans and visitors to Germany may also suggest a reason for the company's limited success in building an American following. While Gerz and others have made major departures from tradition to produce custom (built-to-order) steins with themes ranging from the American Civil War to NASCAR, KING has largely limited itself to exporting the same steins that it sells in Germany. The consequence is that, according to KING, only about 10% (or 25,000) of their steins were shipped to the United States last year. This number is well below that of their chief German rival, Gerz, and is probably no more than comparable to shipments made by newcomer Albert Stahl & Co.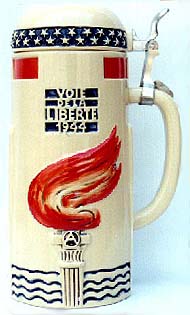 Figure 5

That's not to say that KING isn't trying to change its traditionalist image and increase its exports to the U.S. One significant departure from traditionalism occurred in 1994 with the production of a stein commemorating the 50th Anniversary of the end of World War II. Dubbed the "Way of Liberty Stein" (Figure 5), this unique 9½" tall stein is modeled on the milestones placed after the war along the route taken by the advancing XX Corps of the Third U.S. Army, from its drop zone at Normandy Beach through Belgium to Luxembourg.

Unfortunately, the response to this design does not appear to have been particularly strong. The pictured stein, which was sent to me just recently, is numbered 787. Given the fact that the stein has been on the market for about three years, it would seem that the projected "limited edition" of 25,000 was extremely optimistic.

There has been little follow-up from KING to the Way of Liberty Stein, but I don't expect that vacuum to go unfilled for long. The company was sold in 1992, and the current owners appear to be far more serious than their predecessors about responding to opportunities in the rapidly expanding marketplace across the Atlantic. Hans Günster, the thirty-something Export Manager and son of the company President, was educated in the United States and is spearheading an aggressive effort to compete with Gerz and others for a share in America.

Can they succeed? Stay tuned.


__________

*Reprinted by permission from Prosit, the Journal of Stein Collectors International, Vol 2, No. 22, June 1997