In 1937, the porcelain manufacturing firm of Ernst Bohne Söhne (see "The Steins of E. Bohne Söhne: An Introduction") was sold to Albert Stahl and incorporated as "Albert Stahl & Co. vormals (formerly) Ernst Bohne Söhne." Unfortunately for Stahl, the factory was located in the town of Rudolstadt, in the formerly East German state of Thüringen (Thuringia), and following World War II the production facilities were nationalized and eventually converted to the production of technical porcelain. While the company managed to retain many of the original molds and, after reunification, was able to reclaim others that had been confiscated, stein production both during the war years and thereafter under the socialist regime was virtually non-existent.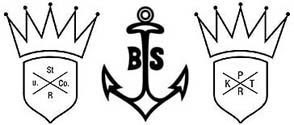 Reprivatized in 1990, the company again began regular production of figural (character) steins based on the E. Bohne Söhne molds, creating pieces which are quite similar (though intentionally not identical) to the Bohne originals. Anyone familiar with Bohne steins should be able to distinguish the reproductions on sight. For those with less experience, look for Stahl's crown and shield logo (figure left) or anchor logo (figure center).

Since returning its facilities to beer stein manufacturing, the company has also produced a number of new designs deserving of serious attention. In fact, by the late 1990s, Stahl steins had become so popular that they were at least temporarily unable to keep up with demand. To resolve that problem, Stahl began working closely with a newly-formed porcelain manufacturing company called PKT (for Porzellanmanufactur und Krugwerkstätte Thüringen). Although PKT produced beer steins for only a few years in response to the demand spike, during that period the company handled a large part of Stahl's orders. The steins that were made by PKT are identical to those made in the Stahl factory, and are distinguishable only by the bottom mark (figure right) which, as can be seen, was designed to look very much like the Stahl crown and shield. Where a particular stein was produced was based primarily on workflow considerations, and examples of many of the steins generally credited to Stahl can be found bearing a PKT mark. In fact, it may be fairly stated that a substantial number of the steins emerging from Stahl in the first decade of the 21st century would never have seen the light of day were it not for the critical contribution of PKT. Moreover, PKT was also responsible for a number of steins manufactured separate and apart from Stahl, primarily for Anheuser-Busch, that are worthy of recognition in their own right.

While PKT has now exited the beer stein business, the combining of the two manufacturers in this catalog is a reflection of the fact that many of the steins it contains, particularly among the unnumbered "special order" pieces, were the product of the joint effort discussed above. In an attempt to give credit where credit is due, notification has been provided in each of the listings for a special order stein as to whether it was jointly manufactured or exclusively attributable to one company or the other.

This on-line catalog has been developed specifically for use in the Beer Stein Library. By its very nature, it will continually be a work in process, designed to allow for updating as new facts are discovered. End-users are encouraged to contribute to that effort by submitting new information and/or photographs to us via e-mail addressed to [email protected].

Copyright © 1999-2023 Beer Stein Library — All rights reserved.

––––––––––––––––––––––––––––––––––––––––

To use this catalog, simply click on the stein you would like to see. Should you wish to "browse" the catalog, you may do so by clicking on the "Previous" and "Next" buttons at the bottom of each catalog page. To return to the main listing, click on the "Go to Listing" button, which can also be found at the bottom of each catalog page.
Numbered
Unnumbered