The Steins of Reinhold Merkelbach*
by Jerry Berg
This article is intended as an adjunct to the on-line Reinhold Merkelbach Stein Catalog in the Beer Stein Library. Clicking on any of the various links provided herein will produce a separate window displaying the catalog listing associated with the item cited in the text.
—————————
Merkelbach History
The Early Years
Although the family Merkelbach traces its known history as potters back to Peter Merkelbach (b. Grenzhausen, circa 1660; d. after 1706) the firm that we generally refer to as "Reinhold Merkelbach" was founded as "Merkelbach Manufaktur" by Wilhelm Merkelbach in 1843.
After his untimely death in 1859, his son Wilhelm Reinhold Merkelbach, then only 12, began helping his mother with operation of the firm. Initially the firm's offerings consisted of basic, household products (i.e., drain pipes, jugs, measuring vessels, storage vessels, etc.). There was little or no artistic character in these utilitarian pieces.
The son, who went by his middle name Reinhold, soon began exerting more influence, renaming the firm "Reinhold Merkelbach" in 1883. It was during this period that the company began a shift in production toward art pottery, including beer steins. The process began gradually, but by 1885 production was firmly focused on these artistic wares.
Steins produced during this period were fairly typical of those coming from Westerwald factories as a whole in the late 19th century, including both figural and non-figural pieces, as well as both historical and contemporary themes, a sampling of which is shown in six examples pictured below.
Note that the model numbers below these images are linked to the applicable Merkelbach Stein Catalog listings, from which additional early Merkelbach steins may be accessed using the [Previous], [Go to Listing] and [Next] buttons found at the bottom of each catalog page.
The Jugendstil Era
In 1891 Wilhelm Reinhold Merkelbach passed away and his widow, Toska, took over managing the firm. It was during this same time period that the Art Nouveau, or Jugendstil, artistic movement was rapidly picking up steam. Toska became a very strong advocate of this new artistic look, as did her two sons as they grew older. By 1900 Toska had signed contracts with a number of the important Jugendstil designers, and had begun manufacturing Jugendstil products. Some examples of those wares are pictured below.
Here again, the model numbers below the images are linked to the applicable Merkelbach Stein Catalog listings, providing further information on the steins and artists, as well as the ability to easily explore additional Merkelbach Jugendstil offerings.
The Steinzeugwerke Years and World War 1
In about 1909, with Toska's encouragement and under the guidance of her older son, Paul, talks were initiated among four local stein manufacturers: Walter Müller, Simon Peter Gerz, Reinhold Hanke, and of course Reinhold Merkelbach. The purpose of those talks was to create Steinzeugwerke, a marketing consortium which would allow the four companies to produce and market their new Jugendstil products more efficiently and with a greater impact. This would be accomplished by combining their Jugendstil products into one large, multi-firm catalog — a Jugendstil Catalog, if you will. The four firms recognized that their marketing reach could be extended not only by using a combined catalog, but also by sharing each other's molds and offering a variety of glazes.
In an effort to avoid duplication of form numbers among the four firms, existing mold numbers were reviewed, and selected ranges of numbers were reserved for each of the members to use for their new Jugendstil production.
It was also agreed that the name "Steinzeugwerke" would be used on invoices, letterheads, catalogs, etc., but would never appear on the products themselves, which would display the individual manufacturing company's basemark.
When Steinzeugwerke's joint Jugendstil Catalog was issued in 1912, it listed the glazes that were available on each pictured piece. These glazes crossed company lines, so an order might be placed for an item originally produced by Merkelbach, but with either a Gerz or Hanke glaze. Because applying the glaze is part of the manufacturing process, that specific item would then be manufactured by Gerz or Hanke, and have the manufacturing company's mark on the base. The Merkelbach mark would not appear on that piece, even though the mold number and the catalog identified it as a Merkelbach product. As a result, it is not at all unusual today to find varying company basemarks on items of the same basic design, but with different glazes. A pair of examples of this crossover are pictured below.
Model 1521 (above left) was designed by Paul Wynand for Simon Peter Gerz. The blue-gray version was manufactured by Gerz, while the "Kölnisch braun" (Cologne brown) version was manufactured by Merkelbach using the Gerz mold. Similarly, model 2261 (above right), designed by Wynand for Reinhold Merkelbach and produced with that firm's "braun geflammt" (mottled brown) glaze, was also manufactured by Gerz in blue-gray.
Also, as part of the agreement creating the consortium, it was decided that any jointly marketed Jugendstil molds would be considered the property of Steinzeugwerke and not of the individual companies. In the event that a company decided to withdraw from the consortium, those molds were to be surrendered to the remaining members. This did not apply to any Jugendstil molds created prior to the formation of the consortium and not jointly marketed.
Financial distress prompted Walter Müller to withdraw from the consortium prior to the issuance of the 1912 multi-firm catalog, so no Steinzeugwerke production was ever performed by Müller, and none of his firm's products were included in that catalog.
Reflecting the relative depth of the Jugendstil product lines among the three remaining member firms, when issued in 1912, their multi-firm Jugendstil catalog consisted of 30 pages, which were comprised of 31 Hanke listings, 49 Gerz listings, and 187 Merkelbach listings. So it may be readily seen which firm was an early believer, producing a sizable head-start in Jugendstil production.
Following in the footsteps of Walter Müller, both Hanke and Gerz eventually dropped out of the Steinzeugwerke consortium — Hanke in 1913 and Gerz in 1918. Per the agreement regarding mold ownership, the Steinzeugwerke molds stayed with the consortium, and as the sole remaining member of the consortium, thus became the property of the Reinhold Merkelbach Company.
In addition to Jugendstil steins, Merkelbach had also produced a series of some forty-two Renaissance drinking and serving vessel replicas from museum originals that were depicted in the joint 1912 Steinzeugwerke catalog. These items were numbered 1 through 42, duplicating numbers applied to earlier Merkelbach offerings. They proved to be quite popular with collectors and were reproduced regularly throughout the remainder of the firm's history. Some examples are depicted below.
With the initiation of hostilities in World War I, both of Toska's sons (Paul and Kuno) were conscripted into the German army, and Toska, who had taken over the management of Merkelbach when her husband died back in 1891, was once again forced to assume the leadership role.
Sadly, both sons perished during the war. However, Paul left behind his wife Gertrude, who was at the time pregnant with Paul's son. That son would be named Reinhold Paul Bernard Merkelbach, and he, as well as his daughter Judith, would play key roles in the further development of the firm.
Post World War 1 thru World War 2 (1919-1945)
Toska, assisted by Gertrude, ran the company until 1924, when they decided to go outside the family and hire a professional manager. Because the technical aspects of production were the family's strength and main interest, while managing the day-to-day operation of the firm held no allure, the use of outside managers would become the way the Merkelbach's preferred to operate throughout most of the company's remaining history,
From 1918 until 1921 Merkelbach operated using both the Steinzeugwerke and Merkelbach names. Of course, all products manufactured carried only Merkelbach markings. In 1921 they ceased using the Steinzeugwerke name on legal documents and eventually (in 1936) Steinzeugwerke officially ceased to exist.
Art Deco
The Westerwald's Jugendstil artistic period lasted through the early 1920s, and then was gradually replaced by the "Art Deco" movement, which gained strength throughout the 1920s, and lasted well into the 1940s. Mirroring the rise of the Art Deco movement, by the mid-1920s the Merkelbach product line began to include steins reflecting the newer artistic influences.
While Art Deco period steins can sometimes be difficult to differentiate stylistically from their Jugendstil predecessors, more often than not the Art Deco designs tend to feature more geometric forms. Spheres, polygons, rectangles, trapezoids, zigzags, and sunburst motifs were all popular elements in their design.
Alt Deutsch
The post-war period also brought a new look to Merkelbach's more traditional steins. Introduced during the 1930s, traditional steins began appearing in what the company called the "Alt Deutsch" (Old German) style. These newer pieces differed from earlier traditional designs in that they had a much simpler and less busy look to their décor.
As may be seen here, compared to earlier traditional steins, which typically displayed relatively little undecorated surface area, Merkelbach's Alt Deutsch designs tended toward smooth and undecorated background surface area, and thereby more clearly highlighted the central image.
Handgeritzt
Shown below is a group of designs created for Merkelbach by Jugendstil artist Karl Mahler and first shown at the Bavarian Trade Show of 1912 in Munich. Interestingly, only a small number of these steins were put into actual production at the time, and all currently known early examples bear base marks attributable to Steinzeugwerke partner Reinhold Hanke. Production appears to have ceased at about the same time that Hanke withdrew from the consortium in 1913.
The Mahler designs were resurrected in the post-WWII period and manufactured along with a variety of other Merkelbach "handgeritzt" (hand incised) designs, a technique that was to be widely applied to Merkelbach wares beginning in the late 1930s. A pair of the Merkelbach's Mahler steins, produced between the 1950s and 1970s, are shown below left.
Hand-incising was also being applied at the time to designs created by other artists in what would eventually become a virtual product line explosion. While some of these designs began to appear in the marketplace in the pre-WWII period, for the most part the difficult production environment kept quantities quite low until the 1950s. Two early production examples may be seen below right.
Post-World War II and Reconstruction (1946-1972)
During the time period of the late 1940s thru the 1960s, Merkelbach's Alt Deutsch steins became very popular both in Germany and in the U.S., while the handgeritzt items enjoyed unprecedented popularity in Germany, and most of those pieces were never exported.
It was especially during the 1950s and '60s that the production of the salt glazed handgeritzt pieces increased dramatically with the addition of many larger pieces, such as wine bowls, tobacco humidors, umbrella stands, lidded canister sets, etc. These supplemented the popularity of table settings that included everything from bowls and butter dishes to candle holders and flower vases.
One reason behind the dramatic growth of the handgeritzt tableware and household pieces in Germany was the need for large quantities of basics to replace the items destroyed by WWII bombing. A great many cities and towns had been heavily damaged and many buildings needed to be repaired, or completely razed, then rebuilt, and finally restocked with basic daily necessities. During this reconstruction period, for a ceramic company, the more basic household product you could produce, the more you could sell, and no one was producing enough. Demand far outpaced production.
It was in the late 1950s that Gertrude and Paul's son (Toska Merkelbach's grandson), Dr. Reinhold Paul Bernard Merkelbach, temporarily took over managing the company. His objectives were to greatly increase the factory's production capacity and improve its technical capabilities. To this end, he had built two additional factory buildings with newer and larger kilns. However, Dr. Merkelbach had no desire to manage the day-to-day operations of the firm, and his daughter, Judith Merkelbach (later Judith Engelmann), was too young for such duties at the time, so when the expansion had been accomplished, the day-to-day operations were once again returned to the control of professional managers hired from outside the family.
Throughout the 1960s and '70s the business remained very strong and followed the same geographic strengths, i.e., with the Old German Alt Deutsch steins still popular both in Germany and the U.S., while demand for salt-glazed handgeritzt items continued to be strong in Germany.
The Goebel Years (1972-1988)
In an effort to limit their involvement in the day-to-day aspects of the business, the Merkelbach family agreed in 1971 to sell 50% of their company to Goebel Porzellan GmbH, and in 1972 the company officially became part of the Goebel Group. Sales continued to be strong and Merkelbach's physical growth continued unabated, with new extensions added onto the factory buildings, additional larger capacity kilns, and so on.
In 1985 Goebel made an offer to purchase the remaining 50% of the company and the Merkelbach family agreed to the sale. Only Judith Engelmann (née Merkelbach) remained with the company, both as a silent partner in the new firm and also as a ceramics engineer, which was her technical specialty. The name of the firm was changed to Merkelbach Manufaktur W. Goebel KG.
Unfortunately for Goebel, if there is a German equivalent to "Murphy's Law", Goebel ran face-first right into it. At about the same time that Goebel purchased the remaining 50% of the company, the ceramics industry in Europe began to collapse. The wild growth days fueled by the post-war replacement of household products had played out. Additionally, economic downturns were occurring internationally, adversely affecting consumer confidence and buying power. International competition (notably from Brazil) was also increasing and became a contributing factor. Essentially, the bottom fell out of the ceramics industry in Germany. Many of the firms that once competed with Merkelbach had been closed, and Merkelbach itself was faced with the need for major downsizing in order to survive.
Merkelbach Manufatur GmbH (1988-2007)
In 1988, only three years after Goebel took ownership, the company again changed hands. In an effort to save the company from total collapse, the Merkelbach family and some of their former staff, along with a private collector of Merkelbach Jugendstil products, joined together and purchased the company back from Goebel. They were able to continue production, with a greatly reduced workforce, under the name Merkelbach Manufaktur GmbH.
Seven years later, in 1995, as a cost saving measure, Judith Engelmann took over day-to-day management of the company, which continued to operate under her guidance for another dozen years.
In 2007 the decision was made to close the company for good. For Judith Engelmann, it was time to retire, and the next generation of the Merkelbach/Engelmann family had pursued careers in the medical profession. Their practices were now well established in other parts of Germany, so joining the struggling pottery industry was just not in the cards.
However, the closing of the company did not spell the complete end of Merkelbach wares being produced. An arrangement was crafted with Töpferei M. Girmscheid (formerly Matthias Girmscheid) whereby a license was purchased by Girmscheid to produce steins to be sold under the names "Merkelbach Jugendstil" and "Merkelbach by Girmscheid". Additionally, all remaining Merkelbach product molds and patterns were transferred to Girmscheid, which is still manufacturing Merkelbach products to this day.
History Postscript
It is entirely fitting, and somewhat ironic, that the Reinhold Merkelbach Company was brought into existence in 1843 as Merkelbach Manufaktur, and ceased to exist in 2007 bearing the same name. The life cycle of the company had come full circle.
Identifying and Dating Merkelbach Steins
Popular Merkelbach Molded Handles
Beer stein collectors have come to recognize that in the absence of a makers mark, the design of molded handles is among the most reliable of secondary recognition characteristics. Some of the handles seen most frequently on Merkelbach steins are depicted below. For a more comprehensive look at Merkelbach handles, readers need only go to the BSL's Westerwald Beer Stein Handle Gallery, which as this is written contains some ninety Merkelbach handles, all of which may be readily accessed from the Gallery home page by selecting "RM" under "Display Single Manufacturer."
Dating by Model Number
Throughout the history of the Merkelbach Company, model numbers jumped around and seemingly followed no consistent pattern. This was due to a number of contributing factors. One reason was the firm's practice of reusing numbers once a product had been discontinued. Take, for instance, model number 1, which made its first appearance as a conventional Munich souvenir stein with a centrally depicted Munich Child. That same number was later reused and assigned to a Munich Child character stein. Then, as we learned earlier, number 1 was also assigned to a bearded man jug, the first in a series of Renaissance reproductions. Users of the Reinhold Merkelbach Stein Catalog should have no trouble at all finding numerous similar examples.
Another reason that the mold or model numbers did not follow a chronological timeline was due to the Steinzeugwerke agreement, which reserved certain groups of numbers for the various members of the consortium. For Merkelbach, this meant jumping from number 2321 to number 3001 because the numbers between were reserved for Reinhold Hanke's Jugendstil production. Merkelbach began issuing steins within that numerical range only after Steinzeugwerke ceased to exist.
Merkelbach also used certain ranges of numbers for special orders where a customer had a contract for a stein that would be exclusive to that customer as long as the contract was regularly renewed. However, if the customer opted not to renew, Merkelbach would then make the decision whether to renumber the item and add it to their product line, or to discontinue that item. These special order steins were generally given model numbers in the 6000 and 7000 ranges. Once the contracts were no longer in place, if Merkelbach wanted to add them to the product line, they were generally reassigned model numbers in the 3200s.
The group of handgeritzt steins designed in 1912 by Karl Mahler, was given numbers in the 9000's, which was far higher than the 2000s that were being issued prior to the Steinzeugwerke agreement. Additionally, Merkelbach decided in the 1970s that they wanted all of their handgeritzt steins, which had a similar look, to be numbered consecutively. Therefore a number of existing steins were assigned new model numbers in order to make available the numbers that Merkelbach wanted for their grouped-together handgeritzt steins.
So as may be easily seen, trying to date any specific Merkelbach stein based upon its model number is far from an exact science.
Dating by Location of the Capacity Mark
Like many companies, during their early years the Reinhold Merkelbach Company marked the capacity of their steins on the front (i.e., opposite the handle), as opposed to on the side, which later became the standard practice. The highest numbered stein I have seen with a capacity mark on the front is number 589. This model number was reached circa 1893. Therefore, if you see a Merkelbach stein with a front capacity mark, it was probably made prior to that time.
Dating by Manufacturer Basemarks
By far the most consistently useful method for dating a Merkelbach stein makes use of what we know about the trademark (Firmenzeichen) often, though far from always, found on the base. A primary reference for Merkelbach basemarks is a listing compiled by Judith Engelmann, but over time additional marks have also been discovered. Shown below is a compilation of those base marks, including both hand-drawn versions and actual photos whenever possible. The approximate dates of usage are also shown. Each mark is numbered for convenience in using the "Supplemental notes on marks" below.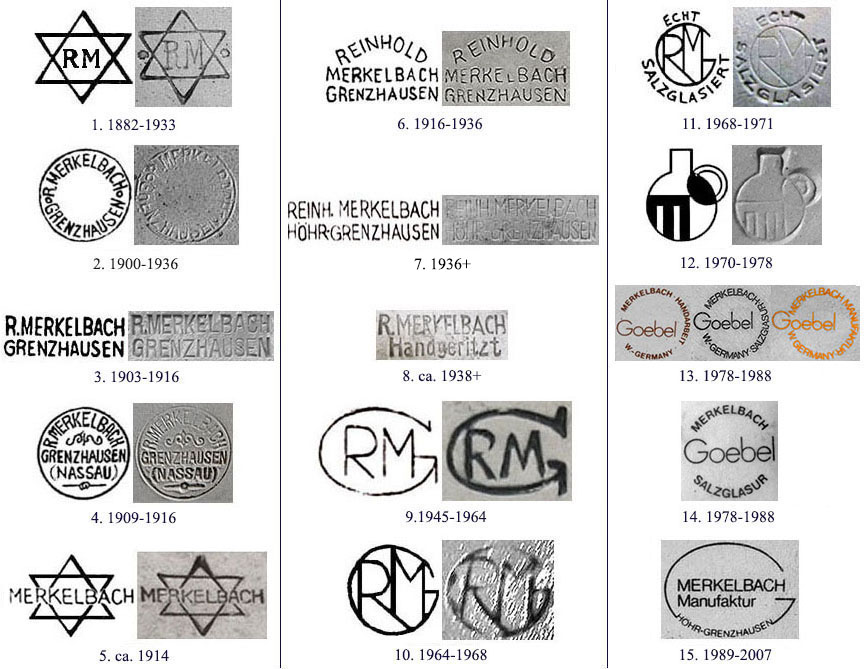 The estimated dates of basemark usage can provide considerable help in dating a Merkelbach product, but this means of dating also has the potential to mislead. When new replacement stamps were issued, not all of the stamps previously in use were immediately discarded. Hence, one production worker might continue to use an older stamp after another had switched to the new one. For example, mark 7 places the dates of usage between 1916 to 1936, and we know that Grenzhausen was consolidated with two other towns to become Höhr-Grenzhausen in 1936, at which time new stamps were introduced. Nonetheless, we still find some steins created after 1936 showing the older "Grenzhausen" (sans "Höhr") basemark.
Moreover, while using the basemark to date a Merkelbach stein is generally more reliable than trying to use the model number, placing the date between 1882 and 1933 (mark 1), or between 1916 and 1936 (mark 6), and so on is still somewhat less precise than most collectors would like.
Supplemental notes on marks
5. Known to have been used in 1914, but there is no surviving information regarding a start or end date, or circumstance of usage.
6. Use of this mark is known to have continued for a time beyond the formation by merger of Höhr-Grenzhausen in 1936.
8. This mark was used to differentiate Merkelbach's hand-incised wares from imitations produced using molds. In many cases, the same objective was achieved with the word "handgeritzt" hand-inscribed into the base by the decorator.
12. This mark is also seen encircled with the words "ECHT SALZGLASIERT MERKELBACH" (real salt glaze).
13. These three marks all show "W. GERMANY", one for hand incised, one for salt glaze, and the third for other wares.
14. This mark was seen during the short period when Goebel had full ownership of Merkelbach (i.e., 1985-1988).

__________
This article would not have been possible without the generous contributions and support offered by Judith Engelmann (née Merkelbach).
Photos were contributed by the Beer Stein Library, the Stein Marks web site (www.steinmarks.co.uk) and Walt Vogdes.
* This is a restructured version of an article originally entitled "A Historical Survey of the Reinhold Merkelbach Company and the Steinzeugwerke Marketing Consortium", that appeared in Prosit, the Journal of Stein Collectors International, Vol. 2, No. 94, June 2015, and appears here with the permission of both SCI and the author.
New photographs, text revisions and coding © 2015 Beer Stein Library — All rights reserved.